Maybe we were a little favorite-shy after last week's surprise falling of the Archuleta. Maybe we trusted the bookies a bit too much. Maybe the Euro-diva vote got split too many ways. Or maybe we just didn't properly "Believe."

Photos: Getty Images
We weren't quite convinced he could pull it off, but Russia's Dima Bilan never stopped believing…and for his unflappable faith he's been crowned 2008′s King of Eurovision. Though the barefoot contestant had been the betting favorite for weeks leading up to the kitsch-crazed pan-Europe song rivalry, Ukrainian sex kitten Ani Lorak, who'd already been howling in heat at his heels, pulled ahead of him odds-wise in the hours before Saturday's final from Belgrade, Serbia. In the end, Bilan and his theatrical intensity proved irresistible to the European voting public, and he easily bested Lorak, who took a respectable second with her flawless "Shady Lady" performance and rightfully at least won the battle of the divas over third place Greece's Kalomira and #4 Armenia's Sirusho. Swedish Charlotte Perrelli, the 1999 Eurovision champ, finished a remote 18th in the final pack of 25.
A few more shots from the ceremony: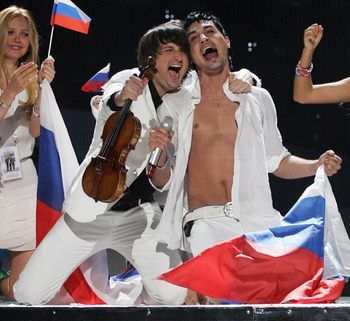 Bilan's win marks Russia's first ever Eurovision championship, and the eighth time in a row that a country that had never before triumphed at the 53-year-old pop competition took home the annual honors. It also marked a personal vindication for Bilan, who had to swallow second place in 2006 with his "Never Let You Go," which despite its formulaic boy-bandyness was arguably a better song than this year's winner.
And so the glitter, the goop, the feathers and the flames go back onto their tidy Euro-shelves for the rest of the year, until just post-New Year's when the ramping up for the next Eurovision tunefest begins.
Interestingly for such a gay-loved spectacle, 2009′s event will go down mid-May in Moscow, right around the same time that city's long-suffering gay activists have tirelessly tried in recent years to mount a successful Moscow Pride march, much to the chagrin of their homo-hating mayor. While we suspect Bilan's probably one of us, and we're furthermore now firm believers in his prowess, we won't hold our breath for him to be marshalling any prickly pink parades.