With a court ruling that allows gay marriages in California, resorts and hotels are offering wedding and honeymoon packages for same-sex couples.
The new rush is on for California gold, and just as they did a century and a half ago, men and women from all over America are traveling westward to stake their claims before the lode dries up.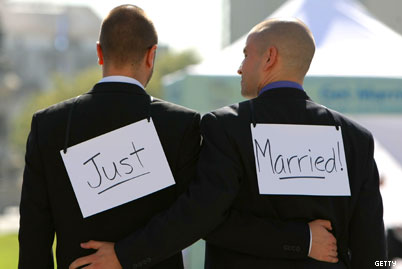 This time they're coming in pairs to say "I do," after a recent California Supreme Court ruling made it only the second state in the country to legalize gay marriage, and the first to allow same-sex partners from other states to wed within its borders. But time, these couples know, may be of the essence, since a measure on the Nov. 4 ballot seeks to re-ban gay marriage in the state.
Same-sex couples across the U.S. are finding that their right to marry couldn't have happened in a lovelier nor more diverse state than California. From beaches to mountains to deserts, California really does offer something for everyone — for both ceremony and honeymoon.
PALM SPRINGS
With its dry desert heat, cool mid-century architecture, and easy proximity to Los Angeles, Palm Springs has long been a magnet for gays and lesbians, to the degree that it now boasts a year-round gay population that's higher per capita than even that of San Francisco.
The upscale and nearly all-suite Hacienda at Warm Sands, considered one of the top gay resorts in the country, is offering a three-night Honeymoon Package ($1,895 to $2,995) including rose petals, champagne, cake, tropical floral arrangement, and fresh fruit basket in the room, as well as two souvenir pillows each embroidered with the couple's names, two hour-long in-room massages, and dinner for two at a posh Palm Springs eatery.
The hotel can also offer assistance with such aspects of the ceremony as arranging for a limousine, officiator, photographer, and caterer, or even getting the license.
LOS ANGELES
Nestled neatly between the glam of Hollywood and the glitz of Beverly Hills, L.A.'s main gay neighborhood, West Hollywood, attracts some folks seeking their own fame and many just stalking another's.
With its excellently central yet quiet side-street locale, Le Parc Suite Hotel offers a romantic getaway for the couple with stars in their eyes. The Romance Special ($399-$499) includes one night in a king or one-bedroom suite, champagne, breakfast in bed, parking, late checkout, and tax.
SAN FRANCISCO
Perennial gay mecca San Francisco was the site of California's first gay marriage mini-rush in early 2004, when newly elected Mayor Gavin Newsom allowed city officials to wed same-sex couples — until state courts put on the kibosh later that year.
Gay couples can now retrace the steps of those trailblazers by getting hitched at San Francisco City Hall.
Afterwards, they can kick off their honeymoons with the Pride & Personality Package at either the stylish Hotel Diva or the more classically appointed Kensington Park Hotel, both on Union Square and part of the city's Personality Hotels group of boutique properties. Packages start at $169 and include one night of deluxe accommodations, his/his or her/her pillowcases, fresh rose petals, champagne, and an 8×10 photo frame.
RUSSIAN RIVER
Lying at the heart of the picturesque and long-gay-popular Russian River area an hour north of San Francisco, Guerneville is home to the Highlands Resort, a gay-specific but heterosexual-friendly clothing-optional compound set amid the redwoods.
With no phones, TVs, or radios, the resort's rustic 1940s-era cabins offer a break from civilization.
The Highlands' two-night Honeymoon Package ($625) includes a private cabin with king bed and two-person soaking tub, breakfast in bed, two hour-long massages (indoors or out), a self-guided tour of the local wine region, and a gourmet picnic.
RANCHO SANTA FE
Just north of San Diego sits Rancho Santa Fe, one of the country's most affluent communities, where the ultra-elegant Vivienda Estate has embraced the gay marriage phenomenon.
With a package starting at $5,000, the couple is whisked by limo from San Diego International Airport to the courthouse for license procurement, then to the palatial estate for a gorgeous private ceremony for up to 25 guests. Packages can also include six guestrooms ($350 a night each) for the couple and their guests for one night.
Those on budgets can save by opting for a little less privacy, i.e. sharing the estate with up to five other couples at the same time.
A film crew will capture the proceedings both for the couples themselves and (with their permission) for a larger documentary being put together to help defeat the November ballot measure.
ANAHEIM
"Bring little girl dreams to life when you arrive at Sleeping Beauty Castle in Cinderella's coach beneath the twinkling stars," suggests the wedding-related web presence for that most magical of kingdoms, Disneyland, about an hour south of Los Angeles in Anaheim. Disney announced in April 2007 that it would open its Fairy Tale Wedding packages to include same-sex commitment ceremonies, which now means actual marriages are available with packages from $2,950 with a four-night stay.
As with opposite-sex weddings, options for the proceedings include the floral Rose Court Garden of the Disneyland Hotel, the secluded Wedding Garden at the Disneyland Grand Californian Hotel & Spa, or the incomparable dreamland that is Disneyland itself.