After the two-week over-the-top pre-spring blowout known as Mardi Gras, few would deny New Orleans' need to sleep it off for Lent. But after 40 days and nights of uncharacteristic rest and repentance, she also needs to wake up, shake off the cobwebs, and get back to the important business of reckless abandon. Thank god for Easter, when Nawlins is risen again.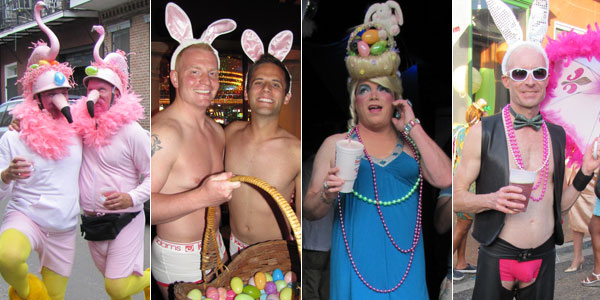 Since the dawn of the millennium, the Official Gay Easter Parade has been helping New Orleans rouse back to life every Easter Sunday afternoon with an ultra-colorful procession that wends through the packed streets of the French Quarter. Thousands of onlookers — gay and straight, young and old alike — clamor for the beads and baubles being tossed from the drag-infused wagons. This year's edition, the 12th, began with a pre-parade party and buffet at Rampart Street's Starlight by the Park, and was capped by a late afternoon bash at 700 Club on the corner of Burgundy and St Peter Streets.
Truth be told, parade prep and parties had been building steam throughout Lent, all designed to raise funds and awareness for Food for Friends, the meal delivery arm of the NO/AIDS Task Force. More than $25,000 was collected this year, a substantial portion of it at Good Friday's VIP fundraiser at Masquerade in Harrah's Casino (which was followed by the club's first-ever gay dance party). Harrah's New Orleans was also a title sponsor of this year's parade, all part of their growing outreach to the LGBT community.