HOTELS
Aston Islander on the Beach: Offering decent beachfront Kauai accommodations at affordable rates, the Aston Islander is situated just east of Wailua on the east-facing Coconut Coast. Its Hawaiian plantation-style décor feels somewhat dated, but the 198 guestrooms are clean and comfortable, all with mini-fridges and microwaves, and ocean views are plentiful. The property sits on six pretty acres, and the open-air Coconut Marketplace with its array of shops and eateries is just next door. For the mandatory $10 nightly amenity fee, you get extras like Internet access and free local calls. 440 Aleka Pl., Kapaa. 808-822-7417. $$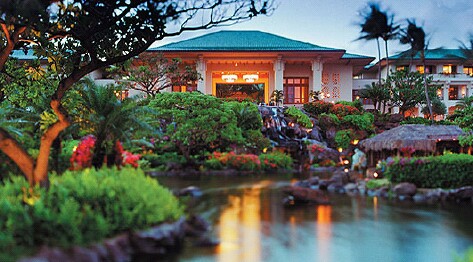 Grand Hyatt Kaua'i Resort and Spa: Kauai's sunny southern Poipu Coast is home to the graceful Grand Hyatt Kauai, a 24-acre oasis of idyllic island comfort. The 602 sizeable guest rooms are appointed in a classically simple Hawaiian style, all with marble bathrooms and private patios or balconies. Service is splendid, and recreational options are copious, from kayaking in the acre-and-a-half saltwater lagoon, to golfing in the stunning adjacent Robert Trent Jones, Jr.-designed course, to pampering in the ultra-verdant Anara Spa — one of Kauai's best, and definitely its largest at a huge 45,000 square feet. Keep your eyes peeled for humpback whales. 1571 Poipu Rd., Koloa. 808-742-1234. $$$$
Kaua'i Marriott Resort & Beach Club: To put it simply, the 356-room Kauai Marriott Resort serves up exactly what the Kauai holiday visitor craves: quick connection from the airport, direct access to some of the island's most gorgeous shoreline (Kalapaki Beach), a ginormous swimming pool (26,000 square feet, the largest single-level pool in the state), spacious rooms, and fantastic dining (five diverse restaurants, plus personalized and romantic gazebo and cabana options). The courtyard Gardens of Kalapaki are stunning, and feature more than a hundred native Hawaiian flowers and plants. Stop by some morning at 9 and help feed the 1,500 multicolored koi. Kalapaki Beach, 3610 Rice St., Lihue. 808-245-5050. $$$
Ko'a Kea Hotel & Resort: From the day that the idyllic and romantic Koa Kea (Hawaiian for "white coral") opened in 2009, it's been a favored destination for Kauai honeymooners. With just 121 rooms, the beachside Koa Kea is the most intimate of the generally massive upscale properties in the Poipu area. Room décor blends cool minimalism with bright Hawaiian colors, to lovely effect. Room service gets very high marks (a nice perk for love-nest-bound newlyweds), and for dining out, the onsite Red Salt restaurant is exceptional. The outdoor hot tub is another big guest favorite. 2251 Poipu Rd., Koloa. 808-828-8888. $$$$
Mahina Kai B&B: Gay-geared since its birth back in 1985, the tranquil Mahina Kai is adorned in a sparse Japanese style, paying deep and open homage to its lush surroundings. Three of the bedrooms share a common living room and kitchenette, while the freestanding Bamboo Cottage offers more intimacy; the Tea House, meanwhile, sits up a hill, offering stunning Pacific ocean views. Proprietor Joe Moore is a longtime fixture in the island's gay community, and he's a font of knowledge about both Kauai and its small LGBT scene. The lovely white sands of Aliomanu Beach are just across the street. 4933 Aliomanu Rd., Anahola. 800-337-1134. $$$
St. Regis Princeville: Overlooking Hanalei Bay in the 9,000-acre north Kauai resort enclave of Princeville at Hanalei, this is the first property of the prestigious St. Regis family to grace Hawaiian soil. Adorned in bold and beautiful natural colors, the 251 rooms are spacious and luxurious, featuring marble bathrooms, original artwork, and custom furnishings. The onsite Kauai Grill and Makana Terrace are two of the island's top restaurants, and their ocean views are nothing short of spectacular. Film buffs will appreciate that several scenes from the 2011 film The Descendants were shot at the St. Regis, and George Clooney himself stayed in the Presidential Suite. 5520 Ka Haku Rd., Princeville. 808-826-9644. $$$$
Whalers Cove: While they're not exactly cheap, the daily condo rentals at Whalers Cove on Kauai's southern Poipu Coast offer up a lot of things most hotels can't — like full kitchens, washer/dryer, and room for four adults — but still including must-have perks like daily maid service. The 38 rentals come in one and two bedroom configurations, all boasting 1,400 square feet or more, and at least partial ocean views (most have full private ocean frontage). Condos are individually styled, and specific units can be requested. The full service concierge can even stock your room with groceries in advance. 2640 Puuholo Rd., Poipu. 800-701-7236. $$$$
DINING
Beach House: It's all about the sunset. Thanks to its superb oceanfront setting on Kauai's Poipu, the Beach House is renowned for its absolutely incredible end-of-day sun-departure spectacles. The food's pretty impressive as well, using a bright palette of locally sourced ingredients to create a broad Pacific Rim cuisine. Start with the refreshing Watermelon Salad, and move on to anything ahi: Seared Island Fresh Ahi Poke, Sashimi Fresh Island Ahi, Crispy Crab Stuffed Ahi Roll, or Fire Roasted Sashimi Grade Ahi. Cap it all off — at twilight — with the heavenly Bananas Foster. 5022 Lawai Rd., Koloa. 808-742-1424. $$$$
Hanalei Gourmet: This very laid-back and local comfort food haven is set on Kauai's dazzling northern coast in the one-time schoolhouse for the Hanalei area, within easy walking distance of the little town's quirky array of art galleries and shopping. The sandwich and salad selection here is huge, and the Beer Battered Fresh Fish & Chips is a classic Hanalei Gourmet favorite. Cooler rentals are available for those heading off on outdoor adventures, be it hiking the Na Pali coast or simply lounging on the nearby beach. There's also a bar, and frequent live music. Thursday is Fish Taco night. 5-5161 Kuhio Hwy., Space 5, Hanalei. 808-826-2524. $$$
Koloa Fish Market: Just a few miles north of Poipu in the little Kauai town of Koloa, this diminutive local fish market also serves up fantastic, fresh, and very inexpensive to-go midday meals, including their very popular bento boxes and plate lunches. Among the stars here are the Ahi Poke, the Lomi Lomi Salmon, the Laulau Pork, and the Kalua Pork. There are no tables at Koloa Fish Market, but you can eat your tasty treats al fresco on a park bench in the nearby village, or take them along on an excursion to the beach or other sights of southern Kauai. 5482 Koloa Rd., Koloa. 808-742-6199. $
Roy's Poipu Bar & Grill: Tokyo-born chef Roy Yamaguchi  opened the first Roy's in Honolulu in 1988, and was soon being hailed by the New York Times as "the Wolfgang Puck of the Pacific" for the East-West culinary merger that he calls Hawaiian Fusion Cuisine. His chain's now spread to seven mainland states, but here in Hawaii (where there are five other locations), the menu still changes to reflect the freshest local catch. Service can be hit and miss, but the food generally still shines. Go for the Three Course Prix Fixe; for dessert, Roy's infamous chocolate soufflé is the devilishly wise choice. 2360 Kiahuna Plantation Dr., Koloa. 808-742-5000. $$$
NIGHTLIFE
Sand Bar: Fancy it ain't, but the kitschy thatch-roofed Sand Bar in the Aston Islander on the Beach hotel is a great laid-back spot for hanging out with friends and sipping poolside cocktails while watching the sunset over the adjacent beach. It's definitely not a gay bar, but all are welcome, and locals pop in frequently — especially during the Sand Bar happy hour, daily from 4 to 6pm. You'll find the fun just 15 minutes north of Lihue along Kauai's west coast. Aston Islander on the Beach Hotel, 440 Aleka Pl., Kapaa. 808-822-7417.
Stevenson's Library: Step out of casual Hawaii and into the buttoned-down world of an old school gentlemen's club at this elegant lounge in Kauai's Grand Hyatt, complete with library-esque bookshelves and 27-foot hand-crafted wood bar. Serving smart cocktails, cognacs and ports aplenty, the bar also offers a full —and excellent — sushi menu from Fridays to Mondays. Cool live entertainment keeps things mellow, making this a great romantic spot for everyone from first daters to honeymooners to the longtime hitched. For the gamier-minded, there's also pool, chess and backgammon. Grand Hyatt Hotel, 1571 Poipu Rd., Koloa. 808-742-1234.
BEACHES
Donkey Beach: Surfers, gays and nudists have long been fond of this lovely and fairly secluded white-sanded crescent Kauai beach. About half a mile north of mile marker 11 on Route 56 (a.k.a. Kuhio Highway), a dirt road on the right leads off to DonkeyBeach's parking lot; a two-mile bike path also connects it all the way north from Kealia Beach in Kapaa. As you approach the beach, you may see surfers trying their luck on the choppy waves at the near end; the far end is the likely spot for gays and nudists , though enforcement against the latter has somewhat intensified. Route 56, between mile markers 11 and 12, Kauai.
Lydgate State Park: Easy to find just north of Lihue off of Route 56 (Kuhio Highway), Lydgate boasts one of Kauai's few beach parks with lifeguards. Of course since it's a state park, it's popular with all types of tourists (families love it since the tranquil waters are safe for kids); but the south end, especially between Wailua Golf Course and the condos, tends to be the gay section. Snorkeling at Lydgate is usually good, but can sometimes be impossible due to periodic dredging. Route 56, about 5 miles north of Lihue, Kauai.