For any number of reasons – fear of cabs, lack of reliable nearby friends or family, etc. – sometimes it's just not possible to leave the car at home when taking an air trip. Indeed, for street-parking New Yorkers, ignoring the car while traveling simply isn't an option, since alternate side of the street parking laws require auto-shifting to facilitate street cleaning four times every week. But with the exorbitant prices of on-site airport lots – seven days at most of LaGuardia runs a staggering $231 – parking can easily cost more than airfare.
Fortunately, several websites now make it easy to find and reserve safe and reliable off-airport parking at substantially discounted rates. An ever-growing number of individual lots have entered the airport parking game in recent years, be they local hotels, car rental companies, or dedicated parking operations. "Cheap airport parking" websites, in turn, help would-be parkers navigate through what would otherwise be a bewildering array of options. The best sites even offer frank reviews from actual previous lot users, allowing easy weeding out of any possibly sketchy outfits.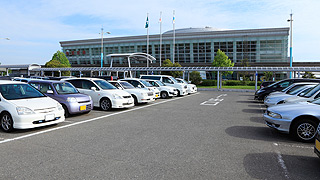 We put the web's five main discount airport parking sites to the test to see who delivers. Using the popular week of Easter/Spring Break 2011 as a sample, we sought out parking from April 17 to 24 at New York's LaGuardia Airport (LGA), Chicago's O'Hare (ORD), and Los Angeles International (LAX). Taxes and fees have been included in all rates, and all lots mentioned offer free shuttle buses. By way of comparison, the cheapest parking on offer for the period at any of the airports' official lots is $156 at LGA (Long Term Lot 3), $63 at ORD (Economy Lot E), and $84 at LAX (Lot C).
BestParking.com
Coverage: 79 airports and 18 cities in the U.S. and Canada
Media hype: Recent shout-outs by both New York Times and New York Post
Field test: $120.92 at LGA (Clarion Hotel at LaGuardia), $54.50 at ORD (Crowne Plaza Chicago O'Hare), $53.65 at LAX (Johnny Park)
Pros: The most tech-forward of the bunch, BestParking.com has free mobile apps for iPhone, Android and Blackberry; search results are shown with rates on Google maps, making it very easy to instantly see how close lots actually are to the airport in question; wide selection of lots at each airport; space availability constantly updated.
Cons: Payment of first day required to secure reservation, though this is refundable with 48 hours notice prior to departure (a $5 service fee is non-refundable); rates slightly higher than those found at About Airport Parking.
About Airport Parking
Coverage: More than 400 lots at 100+ airports in the U.S. and Canada
Media hype: Travel+Leisure named it one of their Top Travel Websites for 2008
Field test: $109.28 at LGA (U-Save, which showed as sold out for the period on BestParking.com), $41.34 at ORD (Days Inn O'Hare), $46.41 at LAX (LAX Airport Parking Center)
Pros: In all three field test cities, About Airport Parking returned the best rates; easy-to-see user ratings and full reviews for each lot; search results can be listed in order of lowest price, highest rated, or distance from airport; searches can be refined to include only those lots that are valet serviced, self serviced, covered, or those offering oil changes or car washes; wide selection of lots at each airport.
Cons: It's a small gripe, but since weekly rates aren't factored into the main results page, actual reservation rates can differ slightly; deposit required for reservation, but fully refundable if cancelled 24 hours prior to departure.
ParkRideFlyUSA.com
Coverage: 57 airports around the U.S.
Field test: $119.89 at LGA (U-Save), $66.24 at ORD (Crowne Plaza Chicago O'Hare), $49.80 at LAX (Fox Auto Parks)
Pros: None discernable, other than a rewards program that offers one free rental day after ten paid rentals.
Cons: Full payment required at time of reservation, though fully refundable with 24 hours notice prior to departure; higher rates than available elsewhere for same locations.
AirportParkingReservations.com
Coverage: 73 airports around the U.S. and Canada
Field test: $120.92 at LGA (Clarion Hotel at LaGuardia), $54.50 at ORD (Crowne Plaza Chicago O'Hare), $53.65 at LAX (Johnny Park)
Pros: Offers exactly the same rates available at BestParking.com…
Cons: … without the nice perks like mobile apps and Google mapped results. (Note: At least two other sites, AirportParking.com and ParkingAccess.com, also loop back to the AirportParkingReservations.com system.)
LongtermParking.com
Coverage: 130 airport lots around the U.S.
Field test: $129.11 at LGA (Dollar Car Rentals Parking Service), $77.27 at ORD (AviStar), $53.52 at LAX (Fox Auto Parks)
Pros: No deposit required
Cons: Very small selection of lots per airport; no prices given with search results, making comparison extremely time consuming; coupons required for lowest rates, and even with coupons, rates are higher than elsewhere for same lots.
(This article originally appeared on AOL Travel in 2011.)