When the Cayman Islands suddenly and famously refused entry of an Atlantis Events cruise to its ports in 1998, Belize let the boat dock. More than a decade later, gays are slowly beginning to find a voice in Belize.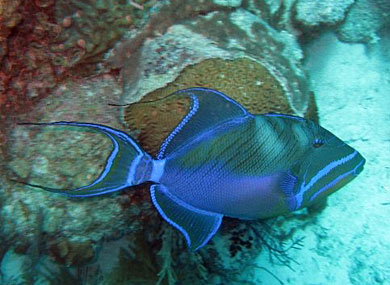 Back in 1998, when the Cayman Islands suddenly and famously refused entry of an Atlantis Events cruise to its ports, the ship moved on to nearby Belize. Despite a smattering of religious protest, the all-gay cruise liner was welcomed to Belize City, if with a fair amount of curiosity: Locals were reportedly so unfamiliar with homosexuals that they were surprised to find them actually "dressed as men."
Often overshadowed by its bigger neighbors to the north (Mexico) and west (Guatemala), petite Belize is best known to savvy travelers for its gorgeous east, where a lush Caribbean coast is seasoned with hundreds of offshore islands, making it a paradise for nature lovers, eco-tourists, and divers.
A U.K. colony (known as British Honduras) until gaining its independence in 1981, this small land of just over 300,000 people retains remnants of many old British laws, unfortunately including a statute similar to those that still haunt Jamaica and Guyana, among others, with a 10-year prison sentence for sodomy. Though it's almost never enforced, the law looms over LGBT life in Belize, preventing — at least thus far — nearly all forms of organized gay activity.
"At the moment there is no history of gay pride marches and no specific health services for LGBT people with the exception of UNIBAM (United Belize Advocacy Movement)," says Caleb Orozco (pictured), who cofounded the small NGO in 2006 and now serves as its president. "Culturally there are unofficial [gay] hangout spots in Belize City and San Pedro," he adds, though he declines to name them for fear of endangering their clienteles. "We are not at that stage yet to promote those places."
"'Gay rights' is an explosive term in this part of the world, so we tend to focus on arguments that are health-related," he says. "Thus far, parenting, adoption, and employment discrimination are invisible topics that have not been on any local agenda. The church-state system still has a strong hold on information. Some of the media is uncomfortable with the subject matter or downright homophobic — like Amandala, a national newspaper with a history of printing sensational homophobic story lines."
Despite a dearth of rainbow flags, Belize has much to dazzle the visitor, from one-of-a-kind jungle wildlife to fantastic Mayan ruins to the Belize Barrier Reef, the world's second longest, stretching for nearly 200 miles.
"Belize is an interesting mix of Central American and Caribbean culture, similar to the nearby Bay Islands of Honduras," says Greg Hamman, owner of Undersea Expeditions, a California-based diving tour company that's been taking gay and lesbian groups to Belize since the 1990s.
"With its small population, Belize doesn't offer gay nightlife, but we aren't there for a circuit event," Hamman adds. "We travel to enjoy the natural beauty of the country and encourage its preservation, while giving the people we interact with the opportunity to see us not only as openly gay and lesbian visitors but also as people who respect and appreciate what their country has to offer."
For those dead set on sniffing out the country's nascent gay underground, San Pedro on the largest island of Ambergis Caye is the safest bet — but use common sense, warns Orozco. "No affections in public, as it's frowned upon even for heterosexuals," he says. "Take simple precautions, like be aware of your surroundings. Generally speaking, if you go looking for trouble, trouble will find you."
Though it's been slow in coming, Orozco does see a growing acceptance of queer identity in Belize. "There are small groups of people who are 'out,'" he says. "Exposure from North American television does provide some sensitization about the process of coming out. The younger generation, I must say, is much more bold than the older. There is a small trans population, and I must say too that effeminate guys are on the front line of a passive unorganized social movement to be themselves."
"Our divers who've been traveling there since the 9'0s definitely notice more openness on the part of locals," says Hamman, whose most recent group visited Belize in June. "The boats and resorts we use welcome us back as old friends now, not as novelties."
The original post of this article is here.