It's the vernal equinox, and you know what that means. Sunshine? Flowers? Easter? Sure maybe, for sissies. But for New York's hardcore gay club scene, it much more importantly brings the deep dark blowout to (annually) end all deep dark blowouts: The Black Party, this year forenamed Rites XXXII.
With its roots stretching far back into the city's nightlife history to legendary East Village club The Saint, the Black Party is a yearly institution of sheer pagan decadence known and eagerly anticipated from way beyond the city's borders. Traditionally far darker and more fetishized than other international circuit events, the Black Party is a longtime favorite of the world's Leather/Levi set, but also lures a wide range of hard-charging party people from across the globe, drawn by the event's reputation for phenomenal (and highly sexual) stage shows, world-class DJs, and general immersive reckless abandon.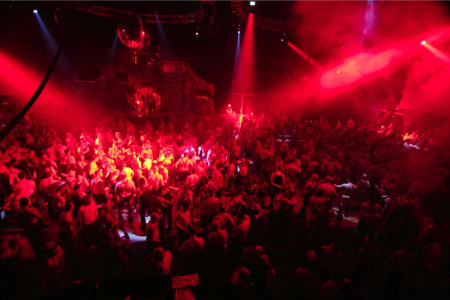 Highly theatrical and keenly produced, the Black Party is known and beloved for its consistently provocative and innovative themes, the full scope of which is never revealed until the night of the actual event. As usual however, clues have been thrown out along the way this year via the event's (NSFW) poster and video trailer, hinting strongly at a futuristic/clone slant. More will be revealed at the pre-event BPX: The Black Party Expo & Bazaar, which after a highly successful debut last year, expands for 2011 from one day to two.
Musically, the Black Party 2011 will be helmed by two of the world's top superstar DJs, Manny Lehman and Danny Tenaglia, both New York City natives, but somehow both first timers to the Black Party decks. Berlin-based DJ 80R15 will start out the evening from 10:45 p.m. to 2:45 a.m., followed by Lehman until 6:45 a.m., and then Tenaglia until closing. If you still haven't had enough blackness, the Black Party: Asylum after-party reopens (at Amnesia, 609 West 29th Street) at 7 p.m. on Sunday.
What: Rites XXXII: The Black Party
When: Saturday, March 19, 2011, 10:00 p.m. (continuing till the afternoon of Sunday, March 20)
Where: Roseland Ballroom, 239 West 52nd Street (between Broadway and Eighth Avenue)
Tickets: $120 advance (general admission only, includes admission to BPX on Saturday); $140 door; $60 door for original Saint members (with card); $50 door after 9 a.m.; under 26 $40 door (if available), before 12:30 p.m. or after 4 a.m. only
Dress code: Heavy