Germany loves the Christmas season, and nowhere is that more apparent than in the capital. Every year some 60 festive Christmas markets help brighten up December in Berlin. Typically decked in lights, spiced with entertainment, and loaded with booths selling holiday crafts, food, and libations, most of Berlin's Weihnachtsmärkte are open from late November to late December, though a few continue on to help ring in the new year. Here are seven of the city's seasonal best.
Charlottenburg Palace Christmas Market (Weihnachtsmarkt vor dem Schloss Charlottenburg)
Charlottenburg Palace, Charlottenburg
November 26 to December 26 (closed Christmas Eve)
Free
One of the city's most famous and beloved Christmas markets happens at the 17th century Charlottenburg Palace on the city's west side, where for 35 days the beautiful baroque castle and its adjacent park glow with romantic lighting and 150 crafts and food vendors from across Germany and the world. This year the market includes Berlin's largest nativity scene.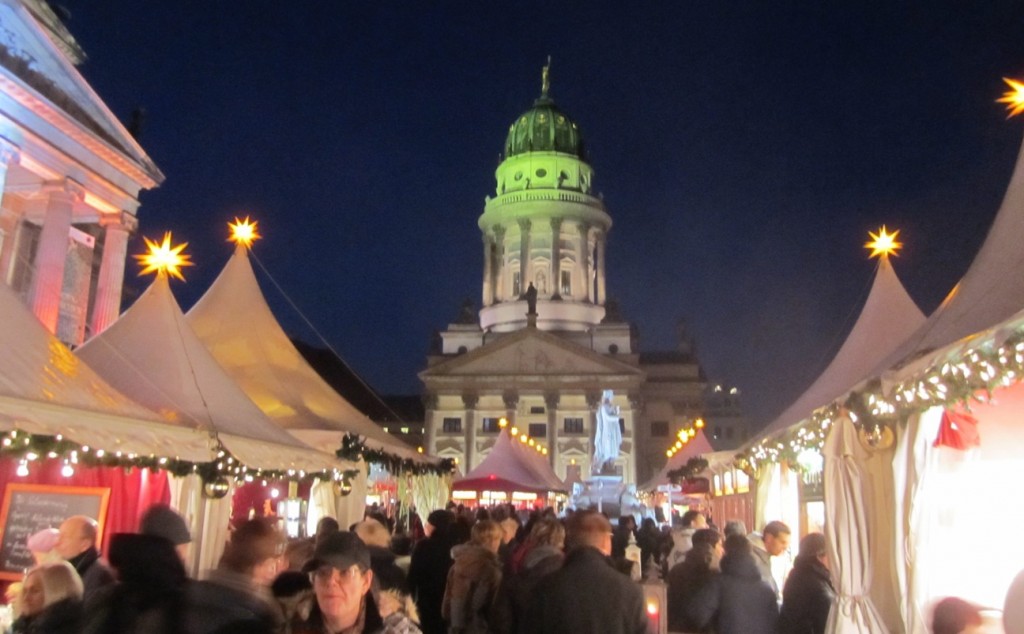 Gendarmenmarkt Christmas Magic (WeihnachtsZauber Gendarmenmarkt)
Gendarmenmarkt, Mitte
November 26 to December 31
1 euro
Set in Berlin's city center in one of the prettiest squares (between the two domes of the French and German Cathedrals), the posh Gendarmenmarkt Christmas Magic features not only scores of booths selling scrumptious edibles and Old World handicrafts, but also special craft tents for watching artisans create their goods. Performances by musicians, choirs, dancers, and acrobats help liven things up, as does the plentiful glühwein (German mulled wine).
Winter World at Potsdamer Platz (Winterwelt am Potsdamer Platz)
Potsdamer Platz, Mitte                                                                           
November 26 to December 26
Free
Sure, there's a lovely Christmas market here on Potsdamer Platz, with all the requisite seasonal crafts and culinary delights. But this market boasts a few extra wintery wonders that none of the others do, like free ice skating on the city's largest mobile rink (even including free lessons for kids 4 to 7), as well as sledding and tubing on Europe's largest mobile toboggan run.
Lucia Christmas Market (Lucia Weihnachtsmarkt)
Kulturbrauerei, Prenzlauer Berg
November 26 to December 23
Free
This Scandinavian-themed Christmas market (named for Lucia, the candle-crowned de facto patron saint of the Nordic countries) happens in the cozy courtyard of Kulturbrauerei, a converted industrial complex in the north-side Prenzlauer Berg neighborhood. It's smaller than many other markets, but it's much more intimate, and locals prefer it to the bigger and more touristy options.
Nostalgic Christmas Market (Nostalgischer Weihnachtsmarkt)
Opernpalais, Mitte
November 26 to December 26 (closed Christmas Eve)
Free
With more than 200 craft and food stands and an especially Old World slant, this lovely market happens between Opernpalais and Schinkelplatz, right across from the city's famed Museum Island. If you need a break from the crowds, hop on a romantic horse-drawn carriage for a ride through the Christmas-y city center.
Cultural Winter Market & Circus (Kultur-Winter Markt & Zirkus)
Prinzessinenngärten, Moritzplatz, Kreuzberg
November 29 to December 23 (Thursdays to Sundays only)
Free
The gritty-cool Kreuzberg neighborhood is home to this artsy and alternative holiday market, where the main Christmas tree is fashioned out of old bicycles that periodically spout flames, and where the festive lights strung above shine through plastic children's sand pails. The booths offer an eclectic array of hip crafts and wares.
Spandau Christmas Market (Spandauer Weihnachtsmarkt)
Old Town (Aldstadt), Spandau
November 26 to December 23
Free
It's a bit beyond the city center, but this market in Berlin's farthest western borough of Spandau is the city's largest, with its 250 weekday stands expanding to some 400 on weekends. The Old Town setting makes it especially picturesque, set against the backdrop of the 14th century St. Nikolai Church.