My first trip to New York City was as an excitable eight-year-old on the only road trip my parents and I ever took beyond the Midwest.
While I delighted in wonders like the Statue of Liberty and the Empire State Building over the next few days, I could pretty easily sense that my normally mellow parents were operating in a state of constant nervous hysteria amidst the hustle and bustle of a city that wasn't showing them a lot of mercy.
On the morning we left town, Dad was so anxious to get out that he hastily parked our car in front of the hotel while retrieving Mom and me, only to find upon our return that it'd been towed. This induced another of my most distinct early New York memories, that of my mother sobbing quietly in the back of a cab en route to the tow yard. Hundreds of 1970s dollars later, we were safely back in our car, and the joy of imminent escape was palpable.
But the city still had one more surprise up its sleeve on this late June 1972 Sunday afternoon.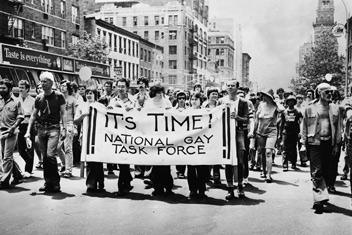 Dad wanted to swing downtown to glimpse the almost complete World Trade Center, but hadn't counted on a traffic-stopping protest march. As we watched from the sidelines, a procession of odd looking characters streamed past, the likes of which I'd never seen before.
"Daddy, what are they doing?" I asked. "Oh, they're just a bunch of clowns," said Pops. They didn't look like any kind of clowns I knew. Crazy hair and big smiles maybe, but where were the rubber noses and oversized shoes? Only much later did I realize that we'd borne firsthand witness to the third New York City Gay Liberation Day March.
I didn't return to the city until I was an adult, if only barely. As part of a fairly tumultuous period coming both of age and out, several fellow art-homo Michiganders and I decided to spend spring break 1983 in Manhattan, where we shacked up at the Hotel Chelsea. Almost instantly we were swept up into the then-über-hot Danceteria club scene, so irreparably that our week-long visit morphed into a month, and then six.
By day we lived in squalor, crashing on fluid-stained mattresses, four to a room (plus the roaches) that was barely big enough for one.
But it was enough for us to be cool by night, hanging out in the midst of Klaus Nomi, Andy Warhol, John Sex, Madonna, and a host of other of the day's biggest downtown luminaries. Fortunately for my health my money ran out, and I skulked back to the Midwest.
After detox, life reassessment, and two years of film school in Chicago, I transferred back to NYU to finish up my BFA at Tisch. My New York experience this go-round was far less glamorous, but certainly no less colorful.
I lived on Mulberry Street in what was then still Little Italy, sharing a first floor railroad-style apartment that had last been occupied by the mother of a mob boss. Italian ladies dotted the windowsills above our block, keeping a constant watchful eye on everything that transpired below. Our building's prime matriarch was Dolly, who started my every morning with a hearty, "Hi Danny, howwayuh?"
The loud cracks of Fed line-tapping syncopated every phone conversation, and every Wednesday night the street would fill with black Mercedes from John Gotti's weekly wiseguy summit, held literally opposite our place.
We were burgled once, and our heretofore unseen (and never seen again) landlord appeared at our door as if from central casting. When he told me who he was, I went to shake his hand, only to realize it was missing a few fingers.
"If I ever find out who did this," he assured me ominously, "they'll pay." Never have I believed anyone so strongly.
After graduation, I opted to switch coasts to Los Angeles to pursue a screenwriting career, but as fate would have it instead I worked a string of entertainment industry jobs before morphing back into writing.
In the interim, I made several memorable visits back to New York. In 1990, I spent a week here with my then-boss Rob Lowe when he hosted Saturday Night Live. In '94 I came for the 25th anniversary of the Stonewall riots, and I was here six years later when Hillary Clinton took part in her first NYC Pride Parade.
And I came for the final Wigstock on Chelsea Pier over Labor Day weekend in 2001, just days before 9/11.
Not long after that I started caring for my wonderful mom, who'd contracted Alzheimer's. When she passed rather poetically on the last day of 2005, I knew it was time to finally leave L.A. behind and come home to New York for good.
I've been back for a year and a half now, and I've loved every minute of it. I love the sights, I love the smells, I love the random bits of overheard conversation, and I love that I never know what I'm going to experience the next time I walk out my front door.
I live in the East Village, just a few blocks away from the scene of my first-ever job in the city, handing out flyers for the Pyramid Club, unbelievably 25 years ago now. The neighborhood's changed a lot since then, as has the whole town, and I can't say that I'm crazy about all of the changes.
The Hotel Chelsea is currently being "cleaned up" and transformed into a boutique property, and the first floor Mulberry Street apartment from my NYU days is now a trendy Nolita dress shop.
On the other hand, the Pyramid was recently nominated by the Greenwich Village Society of Historic Preservation as the city's first potential drag landmark. But they're all just buildings anyway. And at the end of the day, New York's soul has very little to do with buildings, and everything to do with its people, of which I feel lucky every day to be one.
As excerpted from The Out Traveler Guide to New York City (by Dan Allen, Alyson Books, 2008).
Dan Allen is a regular contributor to The Advocate, Out, The Out Traveler, Logo's TripOut, The Miami Herald, and many other publications.
Randy Jones Said: October 17th, 2008 at 2:21 pm
Hello Dan,
I'm the original cowboy from Village People.
We sure enjoyed this take on our beloved NYC. And it's very good to hear that you're back in the nabe, East Village. It has changed dramatically, Whole Foods, Bowery Hotel, etc. We've been in our place here for the last 25 years and love it. We hope to see you out and about! All the best, RJhttp://www.RandyJonesWorld.com