As the world's biggest homo hotspots gear up to celebrate another round of industrial-sized Pride this month, lest we overlook one of the world's smallest queer coolspots: glacier-bound Greenland, which just a few weeks ago quietly marked a major LGBT milestone by pulling off its impressive Pride debut.
The May 15 Pride event in Nuuk, the capital, drew over a thousand participants — which may not seem like much, until you know that only 57,000 people actually live in Greenland. (Put another way, that's like five and a half million Americans showing up for the first New York City Pride.) Reps from the country's gay-friendly Democratic Party marched at the front of the parade, and Greenlanders of all ages and persuasions joined in, turning it into the second largest demonstration in the nation's history.
19-year-old Nuka Bisgaard, who works as a stylist for a popular Greenlandic theater director and TV host, was one of the event's young organizers. Through a translator, Bisgaard says that he was asked by co-organizer Lu Berthelsen, 24, if he wanted to join up to do a Pride. Since he'd already toyed with the idea for a year himself, he eagerly accepted.
The early evening parade meandered through Nuuk's compact city center, and was followed by a sold out dinner at the Katuaq Cultural Center. Several performances ensued, bewigged and non, some featuring Bisgaard himself.
It was a watershed day for Greenlandic gay history. "This was the first [LGBT] event that was widely publicized," says Jesper Kunuk Egede, a Greenlander by birth, who, like many of his countrymen, now lives in Copenhagen. Despite a recent push toward full autonomy, Greenland is still officially part of the Kingdom of Denmark, and it's here that many Greenlanders spend at least a few years away from their sparsely populated island.
Thanks to its relationship with Denmark (which pioneered registration of same-sex unions in 1989), Greenland was actually the fourth country in the world to establish a registered domestic partner law in 1996. Still, Egede says the law hasn't necessarily translated into openness for Greenlandic gay couples. " I know only of one couple who have actually had their same-sex union in Greenland," he says. "But I've heard of others who were married in Denmark and moved to Greenland."
Organizing gays over such a large, rugged and thinly peopled land mass as Greenland, where roads are few, winters are long and darkly brutal, and most transportation is still by boat, has never been an easy feat. "We did once have a gay organization called Qaamaneq [meaning "Light"]," says Egede, "but it closed after four or five years because of a lack of volunteers."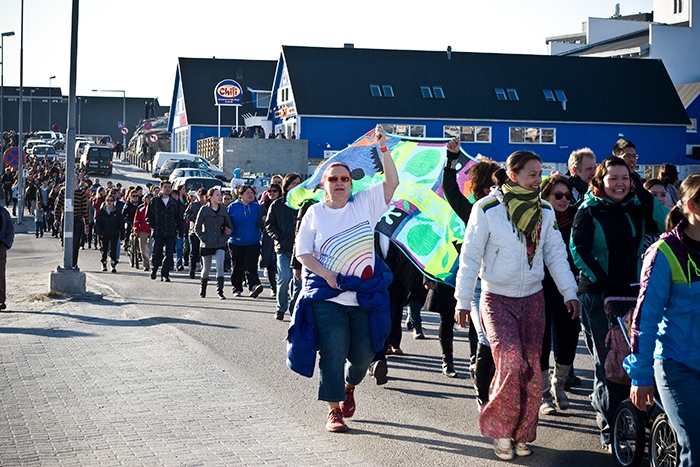 At least in terms of coupling, the web has forever changed Greenland's gay landscape in recent years. "The internet has made gay dating really easy in Greenland," says Egede. "Particularly a Danish dating site called boyfriend.dk has made it easy for Greenlandic gay people to meet. Lesbians also use the same site." The country even now has a de facto gay bar, or at least one that's comfortably mixed. "In Nuuk, people usually meet at a disco called Manhattan," says Egede. "Or as the graffiti on the side of the building said for a while, Gayhattan."
Bisgaard hopes this newfound connectivity will translate into more openness among Greenland's burgeoning LGBT community. "We are trying to create a network and to break with taboos and loneliness," he says. "A lot of young people feel lonely and afraid due to their sexuality. We want to break the silence and let them know that they are, indeed, not alone. We want to create a better future in which our gay rights will also be heard in Greenlandic society."
Photos Courtesy Linnea Ornstein
The original post of this article is here.