Colombia's one step ahead of you. It knows what you think, and it's out to prove you wrong. Hence a recent TV PR campaign that opened with the ominous warning, "You're at a risk when you come to Colombia…" which literally scared the bejeezus out of me on my first morning in Bogota. Fortunately, after a montage of the country's myriad glories, the real truth was revealed: "The only risk is wanting to stay."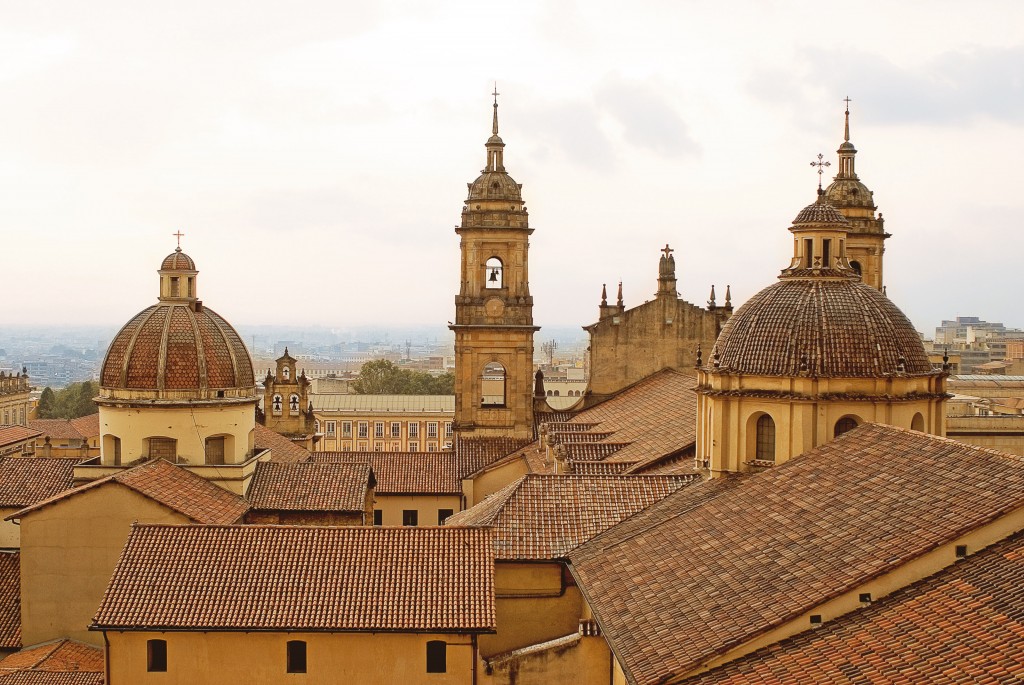 One day Colombia will be able to put its recent past fully behind it, but for now it knows it's still shaking off its perception as a lawless land of anti-government rebels and drug kingpins. Bogatanos are refreshingly frank about their not-so-distant history, when as little as a decade ago one literally couldn't travel on the highway out of town for fear of being attacked by FARC guerillas. But thanks to intense (and indeed ongoing) efforts by the country's much-beloved President Alvaro Uribe, those days are gone, and it now seems all of Colombia is re-energized and ready to move headlong into the bright future the country so deserves.
What that translates into for the Bogota visitor is a seven million strong city that not only feels completely safe, but is shockingly rich in its line-up of gayrific offerings, with lively and wildly diverse scenes in music, art, fashion, dining and nightlife, just to name a few. While the rest of the world looked the other way, Bogota quietly continued building on its reputation as the Athens of South America, home to a heady mix of universities, museums and high culture. Cap all that with an exploding LGBT scene, proximity to the U.S. (just three hours from Miami, five and a half from New York), superb side-trip options (magical Medellin, Caribbean-cool Cartagena, etc.), and a huge dose of gracious Colombian hospitality, and in Bogota you've got all the makings of a Next Big Gay Destination.
BOGOTÁ FAST FACTS
GAYBORHOOD  Located on the city's north side just south of Zona G, Chapinero Alto (usually just shortened to Chapinero, or "Chapigay," or "GayHills") is Bogotá's booming gay district, filled with bars, cafes, and even a gay-cruisy grocery store. As with so many queer ghettos the world over, it was once a rather posh area that fell into disrepair, till the gays moved in to spruce it back up. Chapinero's mayor, Blanca Inés Durán Hernández, is openly lesbian.
Chapinero is also home to Colombia Diversa, the country's first LGBT center, opened in 2006.
Gay couples in Colombia enjoy essentially the same rights as their straight counterparts, thanks to a series of Constitutional Court rulings in 2007 and 2008.
Bogotá's street address system, basically just a series of numbers, seems daunting at first, but it's really pretty simple and highly efficient. Roads are either "Calles" (Cl), which run east-west, or "Carreras" (Cr), which go north-south (think Streets vs. Avenues à la New York City). Each address tells you first which road the place is on, then the cross street, then the address, like this: Calle 85 #12-28 is on Calle 85, near the cross street of Carrera 12, with 28 being the address.
Bogotá is a city of strong neighborhood identities, from the history- and culture-packed La Candelaria downtown, to the gay-heavy Chapinero, to Zona G (for Gourmet) with its great dining options, to the shopping and nightlife of Zona Rosa, to the upscale Parque 93.
Colombia's largest city, Bogotá sits at an elevation of 8,600+ feet, making it also the third highest capital in the world, behind La Paz and Quito (that's Bolivia and Ecuador… but you knew that, right?). While chances are you'll be perfectly fine with the height, be aware that altitude sickness is a possibility, and susceptibility has no correlation with how fit one is. (If you're worried, your doctor can prescribe Diamox, or some say gingko biloba works as a natural remedy.)
Thanks to its location near the equator, Bogotá's temperatures vary little year-round. Thanks to its altitude, that means highs are generally in the mid-60s, lows are usually in the mid-40s. In other words, pack sweaters!
Bogotá lies at the heart of Colombia, a land that's big on heart… so much so that a recent exhibition ("Discover Colombia Through Its Heart") sponsored by the national tourism board brought 47 huge heart-shaped sculptures to Washington, DC's Union Station and New York City's Grand Central Terminal, where over a million people visited the multi-themed interactive corazones.
Bogotá has no subway, but gets around the problem with its ingenious TransMilenio system, whereby more than a thousand city buses run in specially designated lanes alongside regular traffic on roads and highways.
$1 U.S. generally converts to somewhere between 1800 and 2500 Colombian pesos (which, just to keep you on your toes, also uses the $ symbol locally). ATMs are plentiful and easy to use.
Bogotá's Gay Pride (Orgullo LGBT) happens in late June.
Bogotá is home to the Festival Iberoamericano de Teatro, the world's biggest theater fest. The next biennial incarnation is slated for March 19 to April 4, 2010.
This article originally also included a full Bogotá venue guide, which is no longer online since TripOutGayTravel.com became NewNowNext.com.