Crazy summer weather left you feeling a bit artless? Fear not, a slew of queer-centric art exhibits will soon be popping up all around America, from Southern California to New England. Here are our picks for the shows not to miss in the coming few months.
Pop-Up Museum of Queer History
Leslie/Lohman Gay Art Foundation, New York City
August 8 to 31
After its smashing debut last year, the Queer History Pop-Up returns this August to Soho's Leslie/Lohman Museum of Gay and Lesbian Art. This year, the show takes the theme "Before We Were Queer," and features pieces by artists from around the world, including Canada, Colombia, Netherlands, Peru, Tanzania, and the U.S. A series of performances, staged readings, and chats will accompany the standing exhibits.
Two Loves: Sex, Art, and the Love that Dare not Speak its Name
Kymara Gallery, Biddeford, Maine
Opens July 27
Also in conjunction with the Leslie/Lohman Museum, the Kymara Gallery just south of Portland presents this selection from the museum's permanent collection, featuring works from Andy Warhol, Keith Haring, and Maine native Robert W. Richards.
Hope Is Never Silent: Queer Art Across Texas
Charles Adams Gallery, Lubbock
August 3 to September 8
Ilume Gallery, Dallas
September 19 to 28
After a stint in Houston, this show featuring works by contemporary Texan LGBT artists (including Lahib Jaddo, above) moves on to Lubbock and Dallas.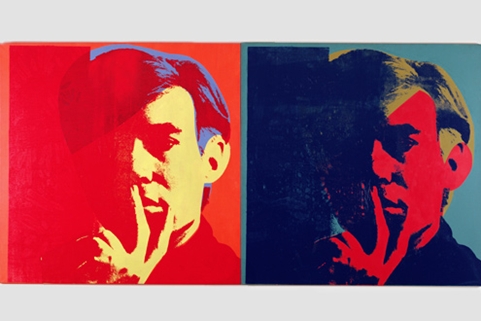 Regarding Warhol: Sixty Artists, Fifty Years
Metropolitan Museum of Art, New York City
September 18 to December 31
This major new Warhol show by the Met juxtaposes 45 of the artist's own works with those from 60 other artists, to reveal his remarkably widespread impact. One entire section of the exhibition, entitled "Queer Studies: Camouflage and Shifting Identities," explores Warhol's revolutionary frank sexualization of the male form.
Robert Mapplethorpe: XYZ
Los Angeles County Museum of Art
October 21 to February 3
In Focus: Robert Mapplethorpe
Getty Museum
October 23 to March 24
The enduringly powerful and provocative Mr. Mapplethorpe gets two exhibitions in Los Angeles this fall: one at LACMA highlighting the artist's X, Y, and Z portfolios of black and white photographs; and the other at the Getty, a one-gallery show featuring works acquired jointly last year by LACMA and the Getty.