Deep in the heart of Texas's queer mecca
There's little two-stepping around the fact that Dallas is often overlooked by many gay American travelers. It's not that no one knows about Dallas–most cities would kill for a mere ounce of Dallas's 10 gallons of ready-packed hype–it's just that the bulk of what they think they know about the place is either long outdated or way off base…or both. The uninitiated may think of Dallas as a mythical land where all citizens don either a cowboy hat or hair that could dwarf it by comparison (not true), where oil tycoons and cheerleaders and their murdering moms preside over the status quo (again, nope), and where one could easily stop by J.R.'s or Sue Ellen's whenever one feels so inclined (oh, wait, this one's actually true).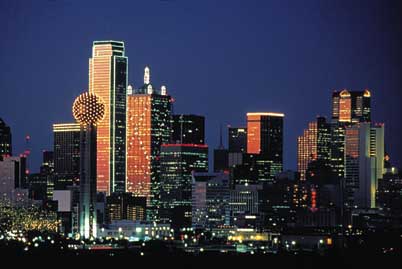 The greatest–and as yet greatly undiscovered–truth about modern Dallas is that it's a magnificent multicultural mecca, a place where warm hospitality rules, but where the throbbing vibe of an enlightened and evolving populace is palpable around every bend. Dallas's gay scene is powerfully alive–as amazingly diverse, as gushingly friendly, and as downright groundbreaking as they come. With its overtly gay-friendly mayor, Laura Miller, and consistently strong queer city-council presence, Dallas is clearly a far cry from being the homo no-man's-land many imagine it to be. And though locals are quick to point out that things aren't nearly so GLBT-peachy beyond the city limits, Dallas offers so many options for seeing and doing that one really need never venture outside its comfy confines.
ESSENTIALS
Accommodations
Dallas' Melrose Hotel (3015 Oak Lawn Ave., 214-521-5151) boasts the rare perfect convergence of those penultimate gay travel criteria: location, panache and LGBT-friendliness. Built in 1924, this grand dame of Dallas luxury now stands, as luck would have it, at the end of the city's main gay drag, rendering it the perfect homo home away from home. Though its regal air shows slight but charming signs of wear around the edges (e.g., the plaque announcing "Best Elevator, 1986"), the Melrose is above all exceedingly queer-welcoming, with staff members that are either "family" themselves or friends thereof. Other solid accommodational options include the Wyndham Anatole (2201 Stemmons Freeway, 214-761-7232) and Hotel ZaZa (2332 Leonard St., 214-468-8399). The former is an astoundingly massive but efficiently run mini-city of over 1600 tastefully appointed and comfortable rooms, plus any and every onsite amenity one can imagine. The latter is an ultra-hip boutique hotel close to Dallas' fast-exploding arts and theatre districts, and the preferred local residence of visiting filmmakers and celebs—including Christina Aguilera, who reportedly so loved the eclectic decor of her suite that she begged (successfully) to leave with one of its lamps.
Restaurants
An oft-heard local culinary claim is that Dallas boasts more restaurants per capita than Manhattan, and accordingly the city abounds with dining options, on a gamut-running palette from hearty Americana to tasty Mexicana to all global points beyond—and quite a few delightfully eclectic fusional stops in between. One of the metro area's most esteemed restaurateurs—and most vibrant political forces—is Monica Barros-Greene, who narrowly lost a recent bid to become the city's—if not America's—first transgender city councilmember. Her renowned Monica's Aca Y Alla (2914 Main St., 214-748-7140) and Ciudad (3888 Oak Lawn Ave., Suite 135, 214-219-3141) are two perennial Dallas faves for foodies of all proclivities. The former mixes Mexico City and Tex-Mex cuisine, while the latter serves contemporary Mexican fare specializing in the central and Yucatan regions. For those seeking rapid comfort-food sustenance along the gay strip, Hunky's (4000 Cedar Springs Rd., 214-522-1212) offers some of the best burgers and fries in town, cherished especially by late-night between-drink connoisseurs; for the morning after, there's Café Brazil (3847 Cedar Springs Rd., 214-461-8762), sure to ease the harshest of homo hangovers with its hearty breakfast bounty.
Nightlife
Nowhere is the sheer vigor and versatility of Dallas' queer community on better parade than in the Oak Lawn area along Cedar Springs, where a wide swath of bars and clubs cater to a bevy of the city's many LGBT factions. The Round-Up Saloon (3912 Cedar Springs, 214-522-9611) is the place for cowboys and cowgirls, as well as their admirers and the merely curious. Woody's (4011 Cedar Springs, 214-520-6629) is for sports-loving guys. Sue Ellen's (3903 Cedar Spings, 214-559-0650) is a sprawling lesbian club that on Fridays features live bands on its outdoor streetside stage. Station 4 (a.k.a. S-4, 3911 Cedar Springs, 214-559-0650) is the latest thumping incarnation of a longtime Dallas dance club institution, and the de facto ground zero for many gay locals. Throckmorton Mining Company (a.k.a. TMC, 3014 Throckmorton, 214-559-0650) is a more down and dirty dance venue. Further afield, other great spots worth hitting include the wonderfully lesbian/gay mixed and totally attitude-free Barbara's Pavilion (325 Centre St., 214-941-2145); the Latin king-and-queen-dom Kaliente (4350 Maple Ave., 214-520-6676), and the straight/gay mixed but homo-hipster-heavy Minc (813 Exposition, 214-370-4077).